Vanilla is a simple to use and fast backup and restore program for Windows 10, which saves your data on the cloud services box and OneDrive, removable storage devices, network drives and local drives.
I wrote it when I was unable to backup my picture library and video collection to box. The issues I experienced was:
box does not support files larger than 5 Gbytes
copying large file sets (e.g. more than 1000 files) frequently failed due to network errors
copying large files  (larger than 1 Gbytes)  frequently failed due to network errors
Vanilla is free and without any annoying ads.
Features
Backup files of unlimited size. The limits of box (5GB) and OneDrive (10GB) does not apply.
Access box files without synching box folders to local storage.
Multiple copies of a file only takes storage space once in the archive.
Only changed files are added to the backup archive giving fast backups.
Abort a backup at any time. Files already uploaded to the archive are available for next backup.
More computers and folders can use the same archive for backup.
Data integrity is ensured using advanced cryptographic technology.
Unlimited number of files.
Size of backup only limited by available storage.
A backup operation may be cancelled while in progress. What have been added to the archive will be available for restore.
A restore operation may be cancelled while in progress. What have been restored is available for use and will also be skipped quickly if the restore is repeated later.
box service supported.
OneDrive service supported.
Cloud folders do not need to be synchronized to computer. No local space is required.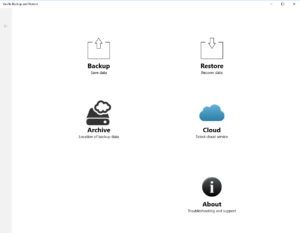 Feedback
Having ideas or comments. Please let me know and send the mail to vanilla@kimnyholm.com or drop a comment on this page.