The web based Robot Dashboard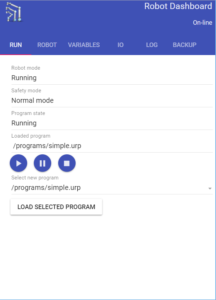 With the Robot Dashboard you can issue dashboard commands to your Universal Robots robots from any browser on Windows, Linux or Android or IOS. You can see the pose while the robot is working, backup your programs folder, upload files to the robot, see log messages, the state of all global variables and hardware inputs and outputs .

To install the Robot Dashboard on a robot:
download the URCap, using the link below
copy the .urcap file to the /programs directory of the robot
go into 'Setup robot' => 'URCaps' and install the URCap
Specifications
Server platform: Robot controller CB1, software versions 3.4.0 or newer.
Network setup:
TCP ports 80, 3000 and 3001 must be opened, e.g. not blocked by firewalls
Supported robots: UR3, UR5 and UR10
Supported end user platforms: Web browsers with HTML5/javascript support on e.g. Windows, Linux, IOS and Android.
Recommended browsers and platforms:
Windows 10: Chrome and Internet Explorer
Android:  Chrome and Samsung Internet
IOS: Safari
Linux: Firefox
Development Services
Do you need your own UR Plus product, a web service or an URCap for your robots, please contact us for more info.